"Standing Under the Word"
You can hear all of Alex's sermons (and other preachers at South Church) by subscribing to our weekly podcast. Each week features the Sunday sermon and a companion "talkback" with the preacher. iPhone users can subscribe through their podcast app,
by clicking here
, while Android users can subscribe through Google Play,
by clicking here
.
---
---
Ecclesiastes 3:1-15
For everything there is a season, and a time for every matter under heaven:
a time to be born, and a time to die;
a time to plant, and a time to pluck up what is planted;
a time to kill, and a time to heal;
a time to break down, and a time to build up;
a time to weep, and a time to laugh;
a time to mourn, and a time to dance;
a time to throw away stones, and a time to gather stones together;
a time to embrace, and a time to refrain from embracing;
a time to seek, and a time to lose;
a time to keep, and a time to throw away;
a time to tear, and a time to sew;
a time to keep silence, and a time to speak;
a time to love, and a time to hate;
a time for war, and a time for peace.
What gain have the workers from their toil? I have seen the business that God has given to everyone to be busy with. He has made everything suitable for its time; moreover, he has put a sense of past and future into their minds, yet they cannot find out what God has done from the beginning to the end. I know that there is nothing better for them than to be happy and enjoy themselves as long as they live; moreover, it is God's gift that all should eat and drink and take pleasure in all their toil. I know that whatever God does endures for ever; nothing can be added to it, nor anything taken from it; God has done this, so that all should stand in awe before him. That which is, already has been; that which is to be, already is; and God seeks out what has gone by.

---
John 12:20-25 (from The Message)

There were some Greeks in town who had come up to worship at the Feast. They approached Philip, who was from Bethsaida in Galilee: "Sir, we want to see Jesus. Can you help us?" Philip went and told Andrew. Andrew and Philip together told Jesus. Jesus answered, "Time's up. The time has come for the Son of Man to be glorified.

"Listen carefully: Unless a grain of wheat is buried in the ground, dead to the world, it is never any more than a grain of wheat. But if it is buried, it sprouts and reproduces itself many times over. In the same way, anyone who holds on to life just as it is destroys that life. But if you let it go, reckless in your love, you'll have it forever, real and eternal.
---
Acts 10:9-16
​ About noon the next day, as they were on their journey and approaching the city, Peter went up on the roof to pray. He became hungry and wanted something to eat; and while it was being prepared, he fell into a trance. He saw the heaven opened and something like a large sheet coming down, being lowered to the ground by its four corners. In it were all kinds of four-footed creatures and reptiles and birds of the air. Then he heard a voice saying, 'Get up, Peter; kill and eat.' But Peter said, 'By no means, Lord; for I have never eaten anything that is profane or unclean.' The voice said to him again, a second time, 'What God has made clean, you must not call profane.' This happened three times, and the thing was suddenly taken up to heaven.

---
Matthew 21:1-11
When they had come near Jerusalem and had reached Bethphage, at the Mount of Olives, Jesus sent two disciples,
saying to them, 'Go into the village ahead of you, and immediately you will find a donkey tied, and a colt with her; untie them and bring them to me.
If anyone says anything to you, just say this, "The Lord needs them." And he will send them immediately.
'
This took place to fulfil what had been spoken through the prophet, saying,
'Tell the daughter of Zion,
Look, your king is coming to you,
humble, and mounted on a donkey,
and on a colt, the foal of a donkey.'
The disciples went and did as Jesus had directed them;
they brought the donkey and the colt, and put their cloaks on them, and he sat on them.
A very large crowd
spread their cloaks on the road, and others cut branches from the trees and spread them on the road.
The crowds that went ahead of him and that followed were shouting,
'Hosanna to the Son of David!
Blessed is the one who comes in the name of the Lord!
Hosanna in the highest heaven!'
When he entered Jerusalem, the whole city was in turmoil, asking, 'Who is this?'
The crowds were saying, 'This is the prophet Jesus from Nazareth in Galilee.'
---
Matthew 11:2-6

When John heard in prison what the Messiah was doing, he sent word by his disciples and said to him, 'Are you the one who is to come, or are we to wait for another?' Jesus answered them, 'Go and tell John what you hear and see: the blind receive their sight, the lame walk, the lepers are cleansed, the deaf hear, the dead are raised, and the poor have good news brought to them. And blessed is anyone who takes no offence at me.'
---
Powered by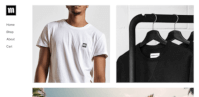 Create your own unique website with customizable templates.